I'm discovering something about myself -- I'm a
good
knitter! My stuff is generally nicely constructed, and people usually think it's store bought -- may not be a great thing, but there it is. Of course, my point of comparison is my mom's knitting. Which is uninspired.
Thursday was a snow day for us, and Friday was a partial wash at work - our systems were down due to massive power failure. So I sat at my desk and knitted away. I was hammering out the second Squirrel mitten, when I was approached by a rather sheepish looking woman. Long story short, she asked me to help her with her partially completed knitting - she's stuck on the pattern. I told her I would love to! This is a first for me . . having someone ask for my knitting help . . . cool! And then the girls I sit with at work told this woman that I'm an amazing knitter (watch my ego grow), and the woman said 'I can tell - she's got more than two needles on the go'. They're 5 needle mittens. I feel so validated!
In the theme of pleasing everyone, I also went to work on Saturday at EIGHT IN THE MORNING to work some over time. With all those systems down on Friday, there is a major crisis -- so there I was to pick up some slack . . .
Speaking of squirrel mittens:
Here is my progress thus far. Right mitten completed, left mitten very much on the go. I'm surprised at just how much I'm enjoying this knit -- It's Dale of Norway Baby Ull and 2.25mm needles. Generally, I find tiny yarn and tiny needles tedious . . . this is a blast! Maybe because of the constant changes in the pattern. I'm really proud of myself for the way these look - and for not letting Fair Isle scare me anymore - and for teaching myself how to do it.
Want to see my stranding?? I'm showing it off anyway.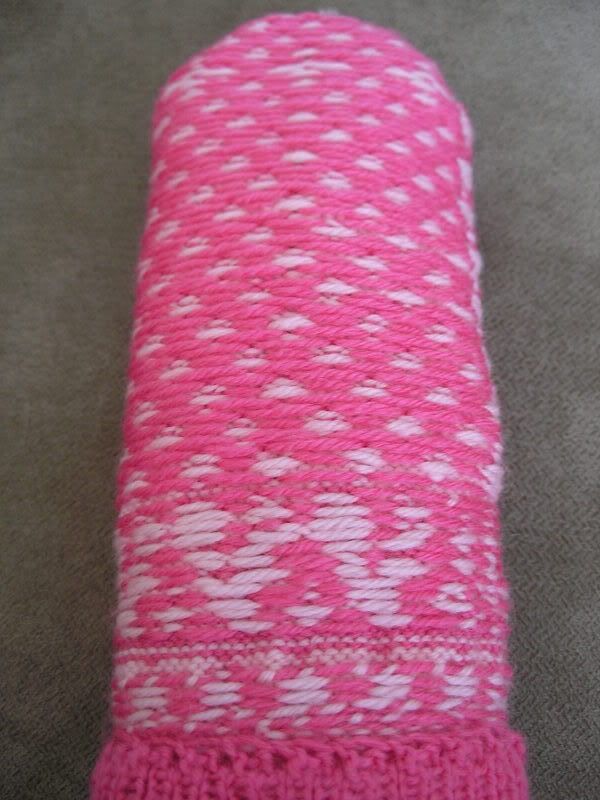 TADA!
These mittens are fun!
Another knitting victory: My nine year old niece is learning to knit -- so that rocks my socks! We saw her - and her needles, and row counter, and point protectors, and all those dropped stitches - yesterday. It would sound crazy to most, but I know a knitter would understand when I say there was a great moment in there - sitting on the couch, next to my niece, both of us knitting. It was awesome! I hope she keeps at it!